HPE ProLiant DL20 Gen9 rack Server Chennai, Hyderabad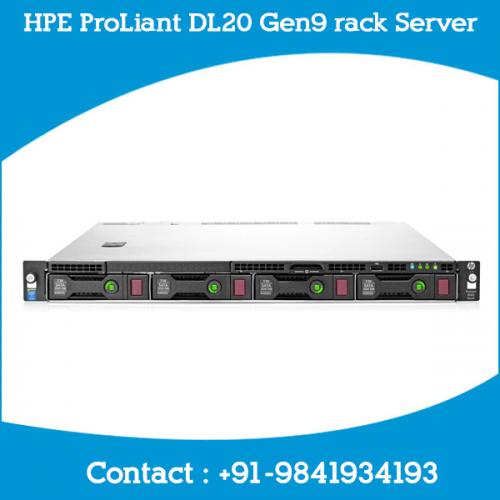 Product Description
Optimized Reliable Solution: The HPE ProLiant DL20 Gen9 Server is a 1P 1U rack server that combines the right balance of performance, expandability, reliability and manageability for a variety of business needs.

Ease of Use for Many Environments and Workloads: The HPE ProLiant DL20 Gen9 Server is a short-depth chassis of 15.05-inch providing mobility and easy deployment in a wide variety of environments.

Great Combination of Performance and Efficiency: The HPE ProLiant DL20 Gen9 Server supports Flex LOM which enables next-generation network capability for faster data transfer.

3Years Warranty from HPE India

Eagle Information Systems Pvt. Ltd. a reputed 22year old company with head office at Delhi and branches at Delhi, Chandigarh, Dehradun, Mumbai, Hyderabad, Bangalore, Chennai, Lucknow, Kolkata & Guwahati.Please call company toll free number 180010 33377 and we would be more than happy to help you.
HPE DL20 Related Product List
HPE Proliant DL20 Gen10 2124 4 Core 2LFF Rack Server
HPE Proliant DL20 Gen10 E2124 2LFF Rack Server
HPE Proliant DL20 Gen10 2136 6 Core 4SFF Rack Server
HPE ProLiant DL20 Gen9 rack Server
HPE ProLiant DL20 Gen9 rack Server
HPE ProLiant DL20 Gen10 E 2224 server
HPE ProLiant DL20 Gen10 E 2124 rack server
HPE ProLiant DL20 Gen9 rack Server
Rs. 67100/-*
Processor FamilyIntel® Xeon® E-2100/2200 series, Intel® Core™ i3, Intel® Pentium®
Processor Core Available8 or 6 or 4 or 2
2 Non-hot plug LFF or 2 Hot plug LFF or 4+2 Hot plug SFF
1 GB 361i Ethernet adapter 2 ports (or) 1 Gb 332i Ethernet adapter 2 ports
Remote Management Software
HPE S100i, HPE Smart Array E208i-a or HPE Smart Array P408i-a
Two maximum, for detail descriptions reference the QuickSpecs
290W entry-level power supply or 500W Flex Slot redundant power supply or 800W 48VDC Flex Slot redundant power supply
Server Warranty includes 3-years parts, 3-years labor, 3-years on-site support with next business day response