hp tower servers - Latest hp tower servers Details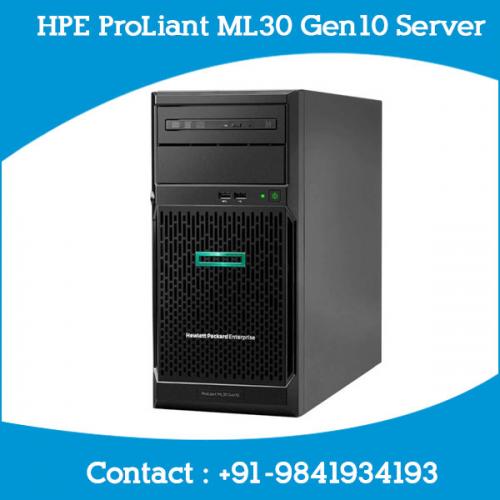 HPE ProLiant ML30 Gen10 Server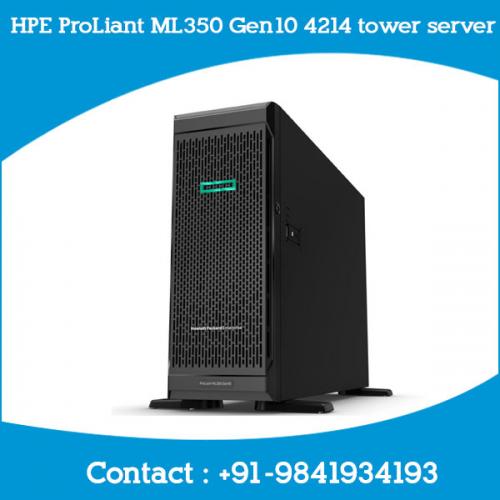 HPE ProLiant ML350 Gen10 4214 tower server
This is the latest (2019) HPE Server launched with the 2nd Generation Intel Xeon Processor. The Server comes with 12 Core Processor & 32GB RAM. Hard Disk is optional to order as required.
Delivers expandability with a wide range of drive upgrade options. Supporting 8 to 24 SFF or 16 SFF when mixed with optional 8 NVMe PCIe solid state drives, 4 to 12 LFF hot plug or non-hot plug drive options protecting your IT investment in hybrid environment.
HPE industry standard servers with major firmware anchored directly into the silicon security protection built in across the server lifecycle starting with Silicon Root of Trust.
Re-designed shorter chassis with multiple drive cage options for upgrade, including 8 SFF (SAS HDD Option 2.5") Express Bay to support NVMe solid state drives.
Eagle Information Systems Pvt. Ltd. a reputed 26 year old company with head office at Delhi and branches at Delhi, Chandigarh, Dehradun, Mumbai, Hyderabad, Bangalore, Chennai, Lucknow, Kolkata & Guwahati.
HPE ML350 Related Product List

HPE ProLiant ML350 Gen9 Server
HPE Proliant ML350 Gen10 Tower Server
HPE ProLiant ML350 Gen10 4214 tower server
HPE Proliant ML350 Gen10 4208 Tower Server
HPE Proliant ML350 Gen10 4208 8C 4LFF Tower Server
HPE Proliant ML350 Gen10 3204 Tower Server
HPE Proliant ML350 Gen10 3204 6C 4LFF Tower Server
HPE Proliant ML350 Gen10 4214 12C 8SFF Tower Server
HPE ProLiant ML350 Gen10 4210 Tower Server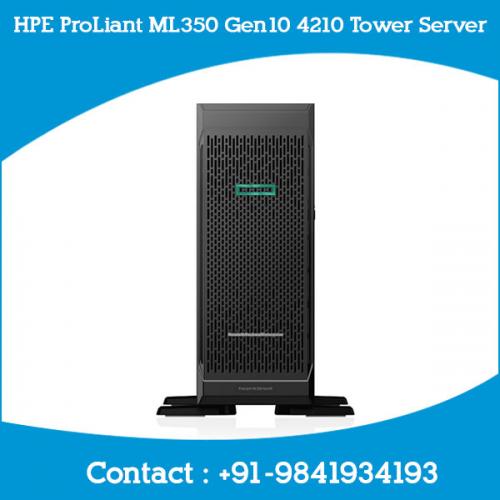 HPE ProLiant ML350 Gen10 4210 Tower Server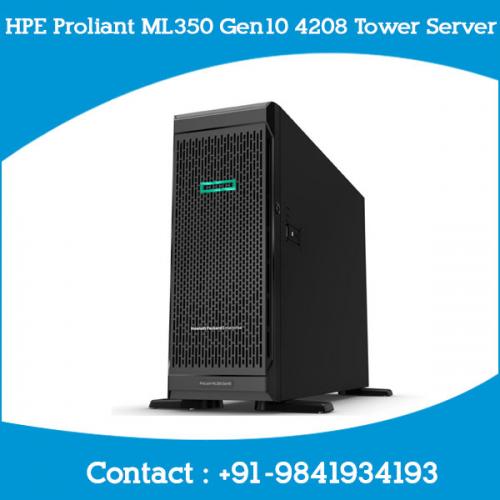 HPE Proliant ML350 Gen10 4208 Tower Server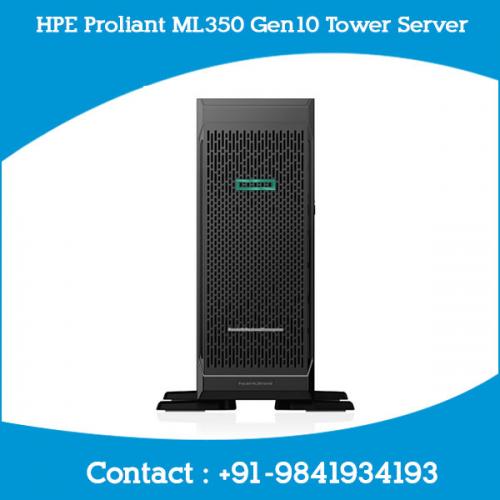 HPE Proliant ML350 Gen10 Tower Server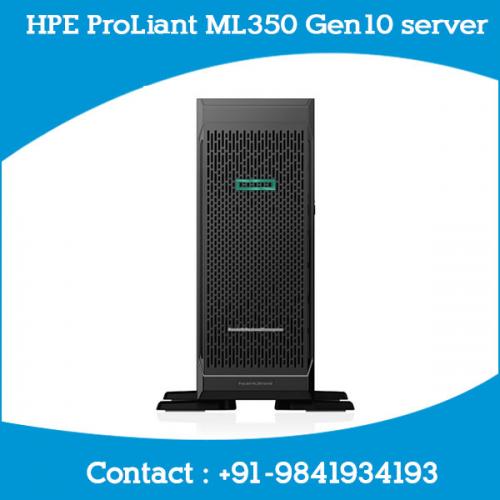 HPE ProLiant ML350 Gen10 server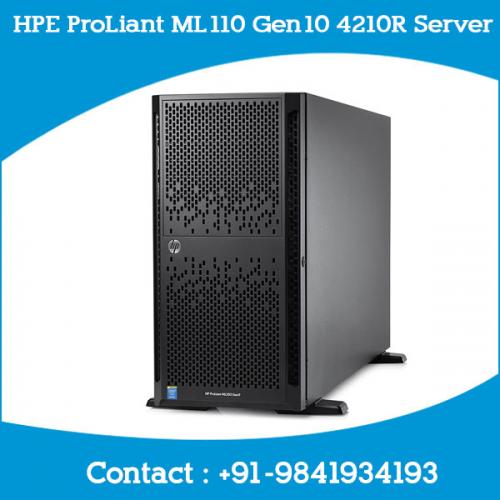 HPE ProLiant ML110 Gen10 4210R Server
Brand: Hewlett Packard Enterprise
Series: HPE ProLiant ML110
Item model number: P10813-001
Hardware Platform: PC
Operating System: Windows 10 Pro
Item Weight: 29.8 pounds
Product Dimensions: 17.32 x 7.68 x 18.92 inches
Item Dimensions LxWxH: 17.32 x 7.68 x 18.92 inches
Processor Brand Intel
Computer Memory Type: DIMM
Flash Memory Size: 1
Hard Drive Interface: Serial ATA
Hard Drive Rotational Speed: 1 RPM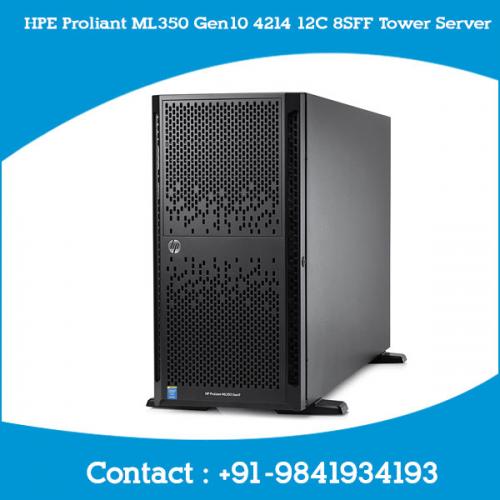 HPE Proliant ML350 Gen10 4214 12C 8SFF Tower Server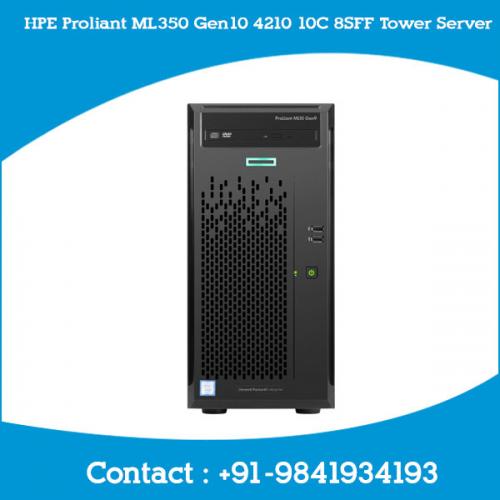 HPE Proliant ML350 Gen10 4210 10C 8SFF Tower Server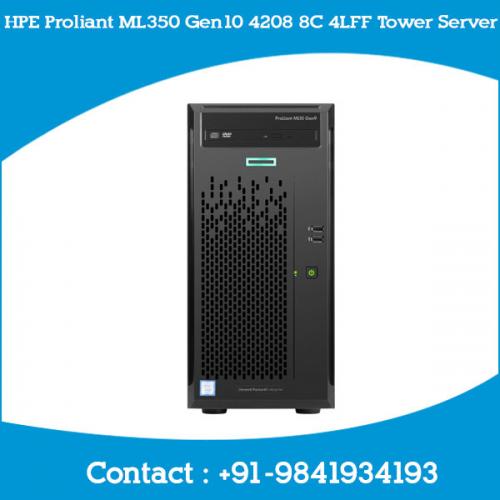 HPE Proliant ML350 Gen10 4208 8C 4LFF Tower Server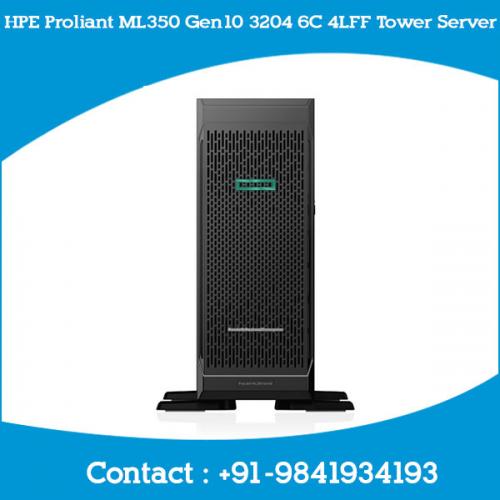 HPE Proliant ML350 Gen10 3204 6C 4LFF Tower Server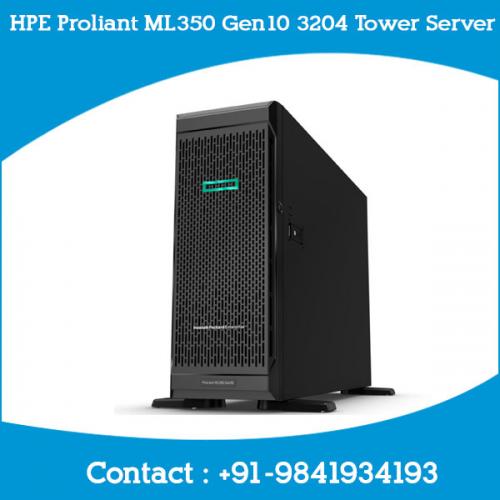 HPE Proliant ML350 Gen10 3204 Tower Server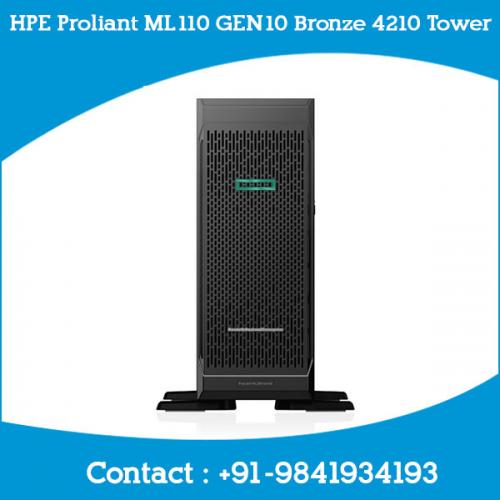 HPE Proliant ML110 GEN10 Bronze 4210 Tower Server
Product Number: P10813 371
Description : HPE ProLiant ML110 Gen10 4210 2.2GHz 10 core 1P 16GB-R P408i-p 8SFF 800W RPS Server
Processor : Intel Xeon Silver4210 (10 Core, 2.2 GHz, 85W)
Memory : 16 GB RDIMM DDR4 2933 MT/s (1x 16 GB)
Hard Disk : 8 SFF HDD Bays (Hot Plug)
Ports: 5 PCIe 3.0 expansion slots, VGA Port iLO Management port 4 USB 3.0 and 2 USB 2.0 ports
Raid Controller: HPE Smart Array P408i p SR Gen10 Controller
Power Supply: HPE 800W Flex Slot Platinum Hot Plug Low Halogen Power Supply
Adapter: Embedded 2 Port 1GbE HPE Ethernet 1Gb 2 port 332i Adapter
Firmware: HPE iLO 5 ASIC
Warranty: 3 years Business Warranty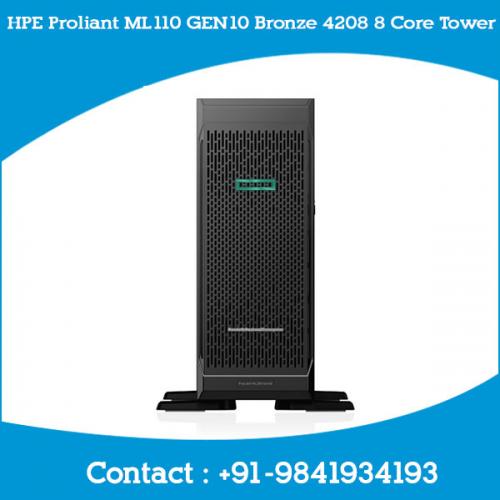 HPE Proliant ML110 GEN10 Bronze 4208 8 Core Tower Server
Product Number: P10812 371
Description : HPE ProLiant ML110 Gen10 4208 2.1GHz 8 core 1P 16GB R S100i 4LFF 550W PS Server
Processor : Intel Xeon Silver 4208 (8 Core, 2.1 GHz, 85W)
Memory : 16 GB RDIMM DDR4 2933 MT/s (1x 16 GB)
Hard Disk : 4 LFF HDD Bays ( Hot Plug)
Ports: 5 PCIe 3.0 expansion slots, VGA Port, iLO Management port, 4 USB 3.0 and 2 USB 2.0 ports
Raid Controller: HPE Smart Array S100i SR Gen10 SW RAID (RAID 0, 1, 10, 5 )
Power Supply: 550W ATX Power Supply
Adapter: Embedded 2 Port 1GbE HPE Ethernet 1Gb 2 port 332i Adapter
Firmware: HPE iLO 5 ASIC
Warranty: 3 years Business Warranty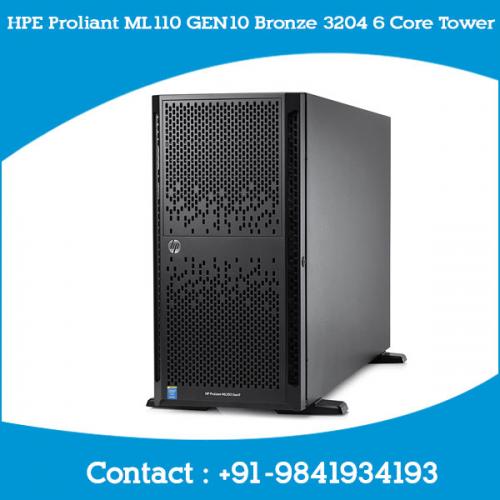 HPE Proliant ML110 GEN10 Bronze 3204 6 Core Tower Server
Product Number: P10811 371
Description : HPE ProLiant ML110 Gen10 3204 1.9GHz 6 core 1P 16GB R S100i 4LFF HP 350W PS Server
Processor : Intel Xeon Bronze 3204 (6 Core, 1.9 GHz, 85W)
Memory : 16 GB RDIMM DDR4 2933 MT/s (1x 16 GB)
Hard Disk : 4 LFF HDD Bays ( Hot Plug)
Ports: 5 PCIe 3.0 expansion slots, VGA Port, iLO Management port 4 USB 3.0 and 2 USB 2.0 ports
Raid Controller: HPE Smart Array S100i SR Gen10 SW RAID (RAID 0, 1, 10, 5 )
Power Supply: 550W ATX Power Supply
Adapter: Embedded 2 Port 1GbE HPE Ethernet 1Gb 2 port 332i Adapter
Firmware: HPE iLO 5 ASIC
Warranty: 3 years Business Warranty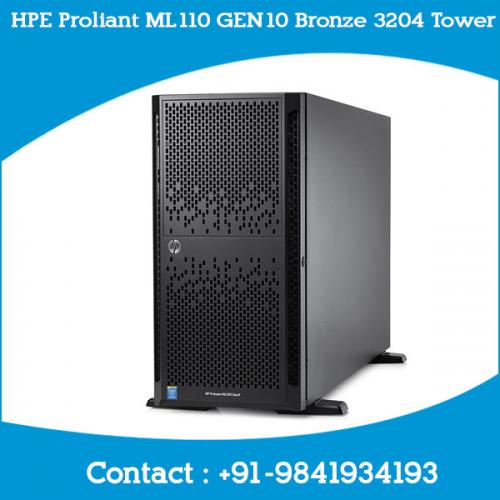 HPE Proliant ML110 GEN10 Bronze 3204 Tower Server
Product Number: P10806 371
Description : HPE ProLiant ML110 Gen10 3204 1.9GHz 6 core 1P 8GB R S100i 4LFF NHP 350W PS Server
Processor : Intel Xeon Bronze 3204 (6 Core, 1.9 GHz, 85W)
Memory : 8 GB RDIMM DDR4 2933
Hard Disk : 4 LFF HDD Bays, HP SATA 9.5 JB Optical HDWR
Ports: 5 PCIe 3.0 expansion slots, VGA Port, iLO Management port, 4 USB 3.0 and 2 USB 2.0 ports
Power Supply: 1 x 350W ATX Power Supply
Adapter: Embedded 2 Port 1GbE HPE Ethernet 1Gb 2 port 332i Adapter
Firmware: HPE iLO 5 ASIC
Raid Controller: HPE Smart Array S100i SR Gen10 SW RAID (RAID 0, 1, 10, 5 )
Warranty: 3 years Business Warranty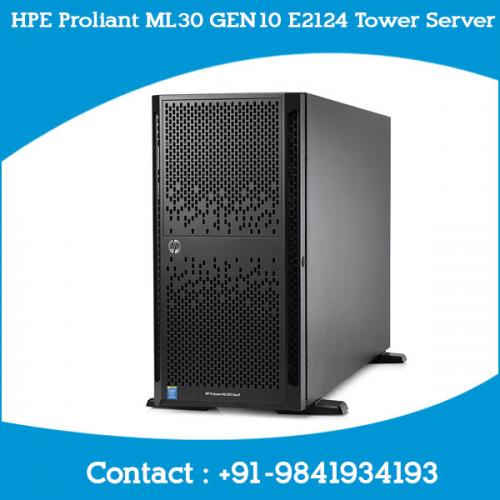 HPE Proliant ML30 GEN10 E2124 Tower Server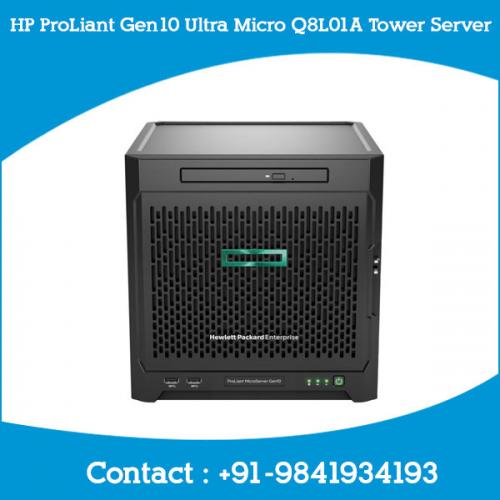 HP ProLiant Gen10 Ultra Micro Q8L01A Tower Server
AMD OpteronTM X3421 Processor (2.1-3.4GHz/4 compute cores/8 graphic cores/2MB/12-35W),
1MB L2 Cache
8 GB DDR4 ECC PC4-2400T DDR4 UDIMM,
2 DIMM Slots available (Max 32GB),
4 LFF(3.5inch) Non Hot Plug SATA ( Max 4 x 4TB ),
Embedded Marvell 88SE9230 PCIe to SATA 6Gb/s Controller (RAID 0 / 1 / 10 ),
NO ODD / NO HDD,200W Non-Hot Plug,
Non-Redundant Power Supply,
Embedded Broadcom BCM5720 Dual Port Gbe LOM,
VGA Port,
2 display ports (rear),
USB 3.0 (2 front 2 rear),ClearOS preloaded,
1 Year NBD Support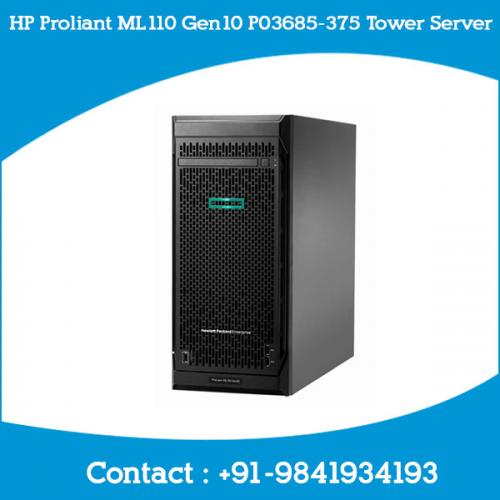 HP Proliant ML110 Gen10 P03685-375 Tower Server
Intel Xeon Bronze 3106 (1.7GHz/8-core/11 MB/85W),
16GB DDR4 - 2666 Registered Memory,
6 DIMM Slots (Max 192 GB),
5 PCIe 3.0 expansion slots,
HPE Smart Array S100i SR Gen10 SW RAID (RAID 0/1/10/5 ),NO ODD,
1 x 550W ATX Power Supply,
Embedded 2-Port 1GbE HPE Ethernet 1Gb 2-port 332i Adapter,
VGA Port,
iLO Management port,
4 USB 3.0 and 2 USB 2.0 ports,
HPE iLO 5 ASIC,3years Next business day response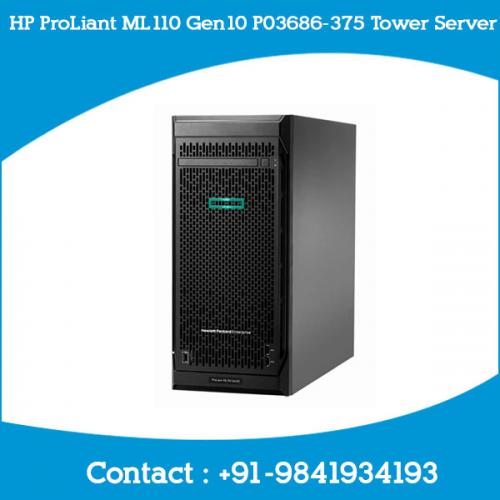 HP ProLiant ML110 Gen10 P03686-375 Tower Server
Intel Xeon Silver 4108 (1.8GHz/8-core/11 MB/85W),
16GB DDR4 - 2666 Registered Memory,
6 DIMM Slots (Max 192 GB),
5 PCIe 3.0 expansion slots,
HPE Smart Array S100i SR Gen10 SW RAID (RAID 0/1/10/5),
NO ODD,
1 x 550W ATX Power Supply,
Embedded 2-Port 1GbE HPE Ethernet 1Gb 2-port 332i Adapter,
VGA Port, iLO Management port,
4 USB 3.0 and 2 USB 2.0 ports,
HPE iLO 5 ASIC,
3 years Next business day response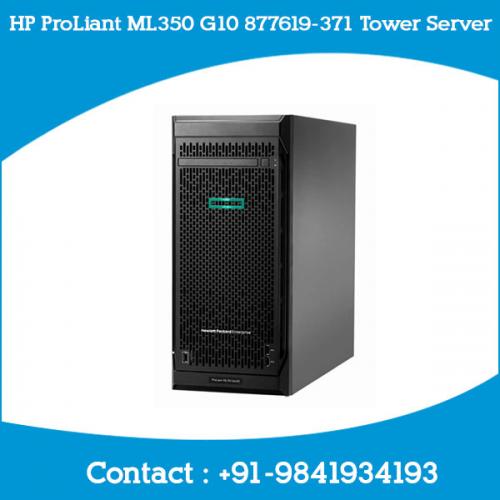 HP ProLiant ML350 G10 877619-371 Tower Server
4 LFF Non Hot Plug drive Cage,
Intel Xeon Bronze 3104 (1.7GHz/6-core/8.25 MB/85W),
1 x 8GB DDR4 - 2666 Registered Memory,
24 DIMM Slots (Max 3 TB),
4 PCIe 3.0 expansion slots,
HPE Smart Array S100i SR Gen10 SW,RAID (RAID 0/1/10/5),
NO ODD,
1 x HPE 500W STD Non Hotplug / Non RPS Power Supply,
Embedded 4-Port 1GbE,HPE Ethernet 1Gb 4-port 331i Adapter,
VGA Port,
iLO Management port,
4 USB 3.0 and 2 USB 2.0 ports,
1 serial port,
VGA Port,
iLO Management port,
4 USB 3.0 and 2 USB 2.0 ports,
1 serial port,
H9GF5E - HPE 3Y FC 24x7 ML350 Gen10 SVC
HPE ML350 server model List

HPE ProLiant ML350 Gen9 Server
HPE Proliant ML350 Gen10 Tower Server
HPE ProLiant ML350 Gen10 4214 tower server
HPE Proliant ML350 Gen10 4208 Tower Server
HPE Proliant ML350 Gen10 4208 8C 4LFF Tower Server
HPE Proliant ML350 Gen10 3204 Tower Server
HPE Proliant ML350 Gen10 3204 6C 4LFF Tower Server
HPE Proliant ML350 Gen10 4214 12C 8SFF Tower Server
HPE ProLiant ML350 Gen10 4210 Tower Server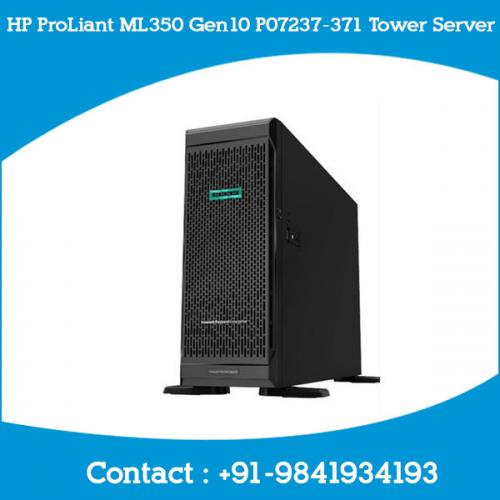 HP ProLiant ML350 Gen10 P07237-371 Tower Server
4 LFF Hot Plug drive Cage,
Intel Xeon Bronze 3106 (1.7GHz/8-core/11 MB/85W),
1 x 16GB DDR4 - 2666 Registered Memory,
24 DIMM Slots (Max 3 TB),
4 PCIe 3.0 expansion slots,
HPE Smart Array S100i SR Gen10 SW,
RAID (RAID 0/1/10/5),
NO ODD,
1 x HPE 500W Flex Slot Platinum Hot Plug Low Halogen Power Supply Kit,
Embedded 4-Port 1GbE HPE Ethernet 1Gb 4-port 331i Adapter,
VGA Port, iLO Management port,
4 USB 3.0 and 2 USB 2.0 ports,
1 serial port,
HPE iLO 5 ASIC,
H9GF5E - HPE 3Y FC 24x7 ML350 Gen10 SVC
HPE ML350 server model List

HPE ProLiant ML350 Gen9 Server
HPE Proliant ML350 Gen10 Tower Server
HPE ProLiant ML350 Gen10 4214 tower server
HPE Proliant ML350 Gen10 4208 Tower Server
HPE Proliant ML350 Gen10 4208 8C 4LFF Tower Server
HPE Proliant ML350 Gen10 3204 Tower Server
HPE Proliant ML350 Gen10 3204 6C 4LFF Tower Server
HPE Proliant ML350 Gen10 4214 12C 8SFF Tower Server
HPE ProLiant ML350 Gen10 4210 Tower Server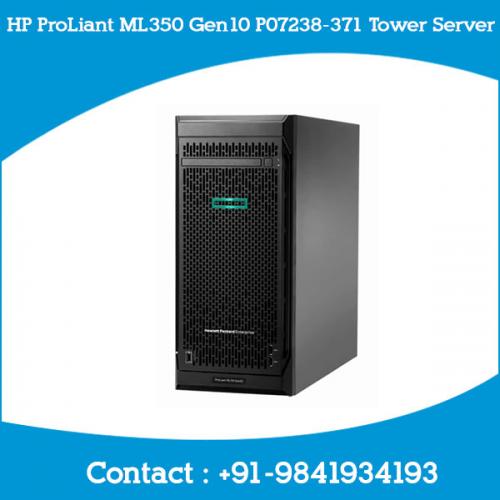 HP ProLiant ML350 Gen10 P07238-371 Tower Server
8 SFF Hot Plug drive Cage,Intel Xeon Silver 4110 (2.1GHz/8-core/11 MB/85W),
1 x 16GB DDR4 - 2666,
Registered Memory,
24 DIMM Slots (Max 3 TB),
4 PCIe 3.0 expansion slots,
HPE Smart Array P408i-a SR Gen10 / 2GB Cache (RAID 0/1/10/5/50/6/60/10ADM),
NO ODD,
1 x HPE 800W Flex Slot Platinum Hot Plug Low Halogen,
Power Supply Kit,Embedded 4-Port 1GbE HPE Ethernet 1Gb 4-port 369i Adapter,
VGA Port,
iLO,Management port,
4 USB 3.0 and 2 USB 2.0 ports,
1 serial port,
HPE iLO 5 ASIC,
H9GF5E - HPE 3Y FC 24x7 ML350 Gen10 SVC
HPE ML350 server model List

HPE ProLiant ML350 Gen9 Server
HPE Proliant ML350 Gen10 Tower Server
HPE ProLiant ML350 Gen10 4214 tower server
HPE Proliant ML350 Gen10 4208 Tower Server
HPE Proliant ML350 Gen10 4208 8C 4LFF Tower Server
HPE Proliant ML350 Gen10 3204 Tower Server
HPE Proliant ML350 Gen10 3204 6C 4LFF Tower Server
HPE Proliant ML350 Gen10 4214 12C 8SFF Tower Server
HPE ProLiant ML350 Gen10 4210 Tower Server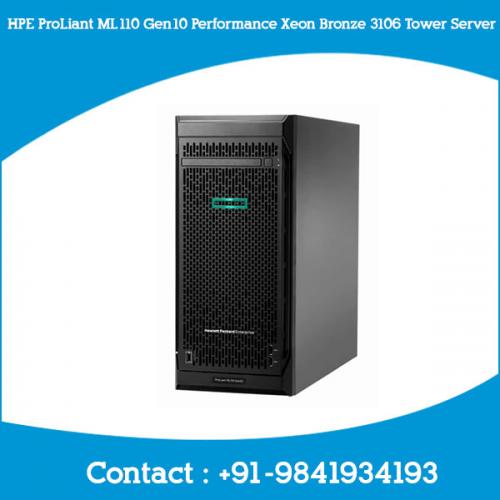 HPE ProLiant ML110 Gen10 Performance Xeon Bronze 3106 Tower Server
Part Number: P03685-375
Intel Xeon Bronze 3106 Procesor(1.7GHz/8-core/11 MB/85W)
16GB DDR4 - 2666 Registered Memory, 6 DIMM Slots (Max 192 GB)
5 PCIe 3.0 expansion slots
HPE Smart Array S100i SR Gen10 SW RAID (RAID 0, 1, 10, 5 )
NO ODD
1 x 550W ATX Power Supply
Embedded 2-Port 1GbE HPE Ethernet 1Gb 2-port 332i Adapter
VGA Port, iLO Management port, 4 USB 3.0 and 2 USB 2.0 ports
HPE iLO 5 ASIC
3-3-3 Next business day response